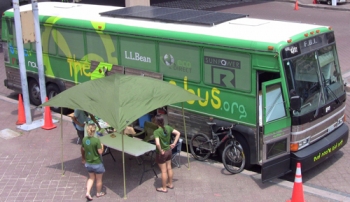 The Big Green Bus rolled into Washington, D.C., and parked outside the Department of Energy offices Monday to showcase its clean energy features. | Photo Courtesy of Joshua Delung |
Twelve Dartmouth College students stopped at the U.S. Department of Energy Monday in a Big Green Bus, a 1989 MCI coach with an engine modified to run on waste vegetable oil. The students' goals are to promote alternative fuels and sustainable living with the slogan "Vehicle for Change" on this sixth-annual cross-country educational tour.
David Peterson, one of the bus drivers and a member of the recently graduated class of 2010, says he gained a passion for clean energy because of his father, who works in renewable energy research in New York.Equipped with a modified engine, solar panels and an interior constructed completely of sustainable materials such as bamboo flooring and recycled glass tabletops, the bus is a combination of a mobile science fair and a place for discussing new ideas in green technology. The bus left Hanover, N.H., June 18 and will return at the end of August after making stops all along the East and West Coasts. The bus has 10 sponsors, which help support the tour expenses.
"Clean energy has always been a big part of my life," he says. "We used to take detours on vacation to go see wind farms. And at Dartmouth, I majored in government and history, so doing this bus tour just seemed like a good fit for my passions in policy and energy."
Students sleep at the homes of family or Dartmouth alumni while on the road, and sometimes they drive all night. They plan to camp in some locations such as Yellowstone National Park. David says he's excited to keep driving around the country to talk to people about finding ways to use less energy.
"We meet a big mix of people on the road," he says. "Some come over to us already excited, and others seem to just want to pit their energy knowledge against yours, which is actually fun because it gets debate going."
Like many large buses, the Big Green Bus goes a little slowly uphill. David says he hopes when people blow their horns while passing by that they aren't doing it because the bus is going 20 miles per hour under the speed limit but because they are fired up about saving energy.
"I want people to know you don't need to be extreme to be an environmentalist," he says. "Small lifestyle changes can make a big difference."