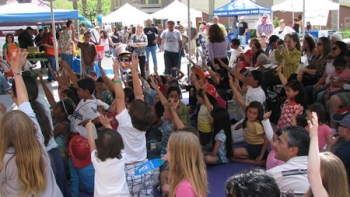 Kids attending Rancho Cucamonga's Earth Day celebration volunteer their answers at an educational program. | Photo courtesy of Joshua Torres, city of Rancho Cucamonga
City officials in Rancho Cucamonga, Calif. were interested in sustainability long before federal funding was available to help communities improve  energy efficiency. So when the U.S. Department of Energy's Energy Efficiency and Conservation Block Grants became available, the city and residents were bursting with ideas.
"When the EE block grant came along, it fit in very nicely with the city's existing priorities," says Joshua Torres, Energy Efficiency Coordinator for the city. "We had our own internal process where we solicited ideas from all the different departments across the city, for what we'd like to do with this grant money. We ultimately submitted [the result] as part of our application."
Rancho Cucamonga, a city of about 177,000 east of Los Angeles, was ultimately awarded with $1.6 million used to launch several energy efficiency programs. The grant is being used for building energy efficiency, job retention and sustainability education.
Better buildings
One project is literally close to the city's heart: a retrofit of the HVAC system at City Hall. Tom Grahn, Associate Planner for Rancho Cucamonga, says the controls on the current HVAC system are now 19 years old, which makes it hard to be effective in all corners of the three-story building.
"It's really antiquated. Some portions of the building are hot, some portions are cold," he says. "Changes to the digital control system would improve that significantly."
The retrofit is expected to increase the system's energy efficiency up to 15 percent. Grahn says the project is currently in its design phase and should be open for bidding sometime in August, with completion scheduled for next spring.
In addition the city is launching two programs aimed at encouraging energy efficiency among residents.
Sustained outreach
None of this would happen without a manager. The city is using the grant to partially fund Torres' position as energy efficiency coordinator. He leads and coordinates the city's environmental efforts, which means helping city departments stay energy efficient, promoting sustainability with residents and businesses and developing new programs.
Another duty for Torres is coordinating the Healthy RC program, which promotes sustainability as well as physical and mental health.
One of the first was the Earth Day celebration at the city's Victoria Gardens Cultural Center. This was an outreach program, with activities, prizes and booths promoting various city sustainability programs as well as the library and businesses with green messages. More than 800 residents attended. Other outreach programs are on the way, Torres says, and the Rancho Cucamonga City Council has been very supportive.
"We're really happy with the way the programs are progressing," he says. "Now that we have the money, we're really getting an opportunity to make an impact."