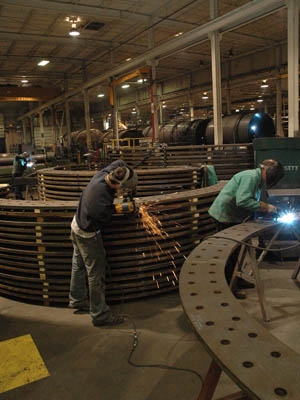 Bassett employees work on embedment (anchor) rings for the wind turbine foundations. Bassett just received a 48C tax credit to invest in capital equipment for wind turbine tower manufacturing.| Photo courtesy Bassett Mechanical
About five years ago, Wisconsin's Bassett Mechanical began branching into renewable energy. The nearly 75-year-old company started producing components used to anchor the towers of wind turbines to their foundations. Since then, they've supplied these components for about 1,500 wind turbines.
Bassett recently received a 48C tax credit and as a result plans to further expand into wind tower manufacturing and carbon capture and storage markets.
Bassett concentrates in three primary areas−construction, fabrication (manufacturing) and service. The company designs and manufactures large mechanical systems including industrial refrigeration, heating, ventilation and air conditioning, and industrial ventilation systems. For example, Bassett creates and designs the systems that allow companies to make frozen pizzas and other frozen foods for commercial sale.
Bassett will use the 48C tax credit primarily to enter the mid-size wind turbine component market, producing products that are increasingly attractive to college campuses and municipalities looking to supplement power or offset energy costs, says vice president of marketing and business development Chris Linn.
Bassett will use part of the 48C tax credit to invest in capital equipment to manufacture wind turbine tower components. The equipment will help expedite production and permit easier handling of the heavy tower components. 
"We're committed to working and supplying equipment and components for various renewable energy technologies," says Chris. 
Bassett will also continue researching opportunities to manufacture equipment for carbon capture and storage technology.
Kim Bassett-Heitzmann, president and CEO at Bassett, believes that a big part of Bassett's future growth will come from the green economy.   "Our workforce hasn't changed – that is, the skills and expertise we offer hasn't changed, what's changed is the content of our jobs and the markets we're serving," says Kim. "It's just a prime example of taking what you're good at now -- designing and building things – and applying it to what the marketplace needs and wants for the future."
If all goes according to plan, Bassett hopes to purchase its first batch of equipment as early as this year.  When equipment is purchased, Chris expects to see Bassett's workforce increase. "We'll need to add people to manufacture the towers and run this equipment," says Chris.
In addition to these projects, Bassett has also been doing a lot of energy conservation projects in their HVAC sector. The company helps clients save on energy by maintaining and upgrading equipment to run more efficiently and install new control systems to operate systems at an optimal level.
Chris says that the projects stemming from the 48C tax credit are examples of the types of work that Bassett is doing on a regular basis. "We're helping our clients manufacture and install equipment that saves energy, cleans the air and conserves the resources used in those processes. Renewable energy and energy efficiency are a big part of our business," says Chris. "We hope to continue to grow in these areas in upcoming years."