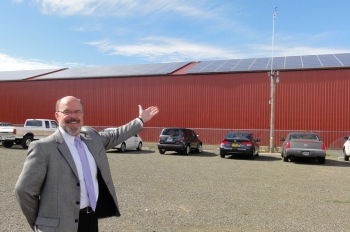 Bob Repine, Oregon Department of Energy director, presents the Benton County Fairgrounds solar barn built with American Recovery and Reinvestment Act funds. The rooftop solar array will produce nearly a quarter of the energy used at the fairgrounds and the 12,000-square-foot space will house livestock and the Solar Education Center. | Photo courtesy of the Oregon Department of Energy
In bygone years, neighbors in rural America would share their time, tools and talent to "raise a barn" for a neighbor in need. This year, Benton County, Oregon residents demonstrated this same commitment to community at the Benton County Fairgrounds, but they didn't build any ordinary barn. They constructed a livestock building powered by 306 roof-top solar modules funded by the American Recovery and Reinvestment Act.
"This building was built in the spirit of the traditional barn raising," said Eric Thompson, past chair of the Benton County Fair Board and current Fairgrounds Foundation member, referring to the aspect of a community coming together to build something of utility.
The array will meet nearly a quarter of the fairgrounds' annual energy needs and cut energy costs by $4,200 per year. The 82,700 kiloWatt hours of solar-generated electricity will avoid 1.1 million pounds of greenhouse gas emissions - equivalent to reducing automobile travel by 121,724 miles a year or planting 7.7 acres of trees.
Inside the 12,000-square-foot space a Solar Education Center displays information about the solar array, providing hundreds of local students with the opportunity to learn how the sun's energy can be turned into electricity. The center was funded by the Oregon Department of Energy using Energy Efficiency and Conservation Block Grant funds from the Energy Department.
The federal award for the Benton County Fairgrounds' solar project also meant jobs.  Oregon-based Benton Electric had four employees on the job for several months. T. Gerding Construction, JB Insulation of Lowell, Oregon, and Ramm Painting Inc. of Albany, Oregon, each had contractors on-site. The solar project also employed an engineer, project manager and project administration part-time along with a superintendent.
Every job helps," Dave Eveland, a contractor working on the project, said.
The 14 inverters that convert the power from the solar cells into useable electricity were manufactured by PV-Powered, a Bend, Oregon company that has since expanded to a second site in Colorado Springs. The solar modules were made by Solon, which has a manufacturing operation in Tucson, Arizona.
"It is a success story of public and private partnership," Thompson said.