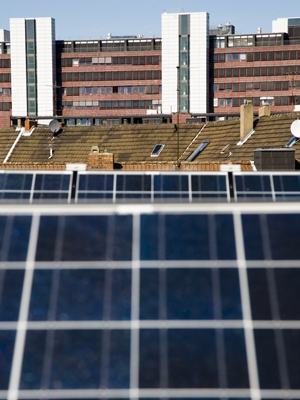 Baltimore resident Paul Bennett installed 14 solar panels such as these on his historic row home with the help of a state solar grant and federal tax credit through the Recovery Act. | Energy Department Photo |
On a 'green' mission last spring, a 62 year-old retiree living on a modest income in Baltimore found himself at the Solar and Wind Expo at the Timonium Fairgrounds in Maryland.
A disabled veteran, Paul Bennett was there searching for alternatives to deal with his increasing energy costs.  His 125 year-old historic row home with three floors and 40 windows isn't exactly cheap to heat and cool.
"It more than doubled over the last 15 years," he says. "I realized I needed to be as energy efficient as possible."
Bennett and dozens of residents roamed the fairgrounds to learn as much as they could about installation costs and, more importantly, how much it would save them on their utility bills. The first-of-its kind event hosted scores of energy companies and the Maryland Energy Administration (MEA) offering up information on incentives for renewable technologies.
There Bennett found out about the MEA residential Solar Energy Grant Program and a renewable energy federal tax credit through the Recovery Act.
Three months later—and after his reverse mortgage was approved—Bennett had 14, 175-watt solar panels installed atop his Mount Royal neighborhood home.
Solar saves green
The $2,860 solar grant from the MEA and a $1,500 federal tax credit helped Bennett pay for the installation, which took place in late July. The solar energy system cost him about $21,000 out of pocket.  Already the retiree has saved almost $100 off both his August and his September electric bills.
"It was worth it," he says.  "It's like I am doing something good for something larger than me, and I am reaping the benefits."
The payback for his system, Bennett says, will be about 10 years. This is because he plans sell back some of the energy produced by the solar panels to the utility company via renewable energy credits, which could end up being about $1,000 in his pocket a year.
Recovering solar
Bennett is one of about 820 people or families in Maryland who have received a solar grant through the MEA's renewable energy grant program—which includes solar, geothermal and wind— since fiscal year 2008, when its budget went from $600,000 to $2 million.
 
A year later, with support from the Recovery Act, that number jumped to $7 million.
"In terms of the residential side of things, it's helped tremendously," says Joe Cohen, a MEA clean energy research assistant who oversees the solar grant program. "We've gotten more applications because of the Recovery Act—and kilowatts installed."
Residents can get up a $10,000 grant to install solar panels, but the average grant is about $4,000, Cohen says.
About $4 million of Recovery Act funds have been used so far for solar and about 3.7 MW of clean, solar energy have been placed on the grid, saving 4,440 MWh annually in the state.
"It s certainly helping the state meet it energy goals," says Cohen, citing Maryland's objective to have 20 percent renewable energy by 2022. 
"And it's keeping the resident solar sector healthy…We have seen quite few solar companies start up because of this program," he adds.