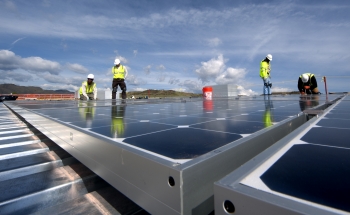 Photo by Dennis Schroeder/NREL.
What do you want to know about solar energy? Now is your opportunity to ask.
This Friday, June 8 at 2 pm EDT we are hosting a live Solar Twitter Chat. The discussion will be lead by R. Ramesh – our resident solar expert and Director of the Energy Department's SunShot Initiative. To participate, send your questions and comments using #askEnergy.
Whether you want to know the pros and cons of cad telluride or how solar panels work – no question is too basic or complex. And, if you have an idea for, let's say, making solar energy more accessible to American families and businesses – share it with us during the discussion.
This live dialogue, focused on solar, leads up to our SunShot Grand Challenge: Summit and Technology Forum being held later this month in Denver. This event will convene the best and brightest minds across government, industry and academia to set a path forward for driving down the cost of solar energy and tackling the next biggest solar challenges.
You can participate in the Solar Twitter Chat in a couple ways, both before and during the live discussion:
Join us, this Friday and let your voice be heard. We're looking forward to the discussion.
Q&A
What questions do you have about solar energy?
Ask Us