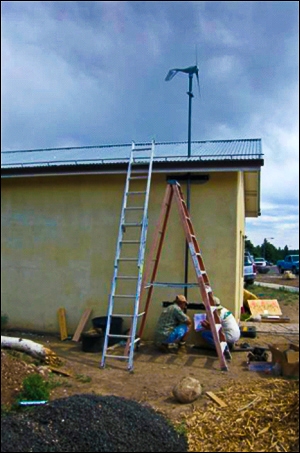 This wind turbine, along with a solar photovoltaic system, will be used to power the school's off-grid greenhouse. | Image courtesy of Wind Powering America
Ponderosa High School principal David Ross feels that the school's wind-and-solar hybrid system presents an opportunity for students. Ponderosa is an alternative high school that helps students earn a high school diploma or GED. The school's approximately 75 students range in age from 17 to 20, and the majority are Native American or Hispanic, mostly from underserved communities.
Northern Arizona University (NAU), home to Arizona's Wind for Schools project, facilitated the installation of a 160-watt Air Breeze wind turbine. NAU assistant professor Allison Kipple worked with her electrical engineering students to help design and install the project.
Kipple feels that the hands-on approach is an important experience for the Northern Arizona University students.
"It's their junior year; they're bogged down in course work. Then the high school students ask them, 'What kind of projects have you done in school?' And we have a lot of design projects, so they talk about that, and the younger students think it's cool. My students seem to get proud and realize what they've accomplished since high school. It kind of makes them re-energized about pursuing engineering."
For Ponderosa High School students, the experience has been equally significant. "The PHS administrators have really taken on projects like the greenhouse and the renewable energy installation and a number of others around their campus in order to make it a school of opportunity and a school that's a great example for others," said Karin Wadsack, state facilitator for the Arizona Wind for Schools project.
For more information on the Ponderosa High School project, visit the Wind Powering America website.
Funded through the Energy Department's Wind Powering America initiative, the Wind for Schools project works to raise awareness in rural America about the benefits of wind energy while increasing the wind knowledge base of future leaders of our communities, states and nation. Arizona Public Service, NextEra Energy, Prometheus Renewables and Southwest Windpower also provided support for the Ponderosa High School project.