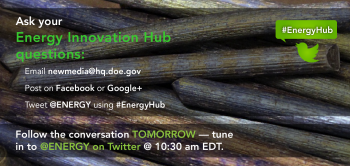 Tomorrow, energy experts will join policymakers on Capitol Hill to discuss the important work going on at Energy Innovation Hubs across the country. These facilities, which were created in 2010, are integrated research centers that combine basic and applied research with engineering to accelerate scientific discovery in critical energy issue areas. The Hubs are made up of teams of the best researchers and engineers in the United States – all working together to achieve major national energy goals.
 
The discussion will be hosted by Congressman Chaka Fattah, and directors from each Hub will be present to answer questions in-person and online about the transformative breakthroughs in energy underway at the facilities. Panelists plan to discuss energy breakthroughs ranging from "virtual reactors" powered by supercomputers to more efficient building designs and energy storage solutions.
 
Send in your questions ahead of the event. We'll be live-tweeting the Q&A from @ENERGY, and will have video of the discussion available on energy.gov/videos after the panel.
 
Ask your Hub-related questions by:
Follow the conversation on Twitter starting at 10:30 am EDT and tune in to energy.gov tomorrow afternoon for video of the event.
Q&A
Want to know what the Energy Innovation Hubs are working on?
Ask Us