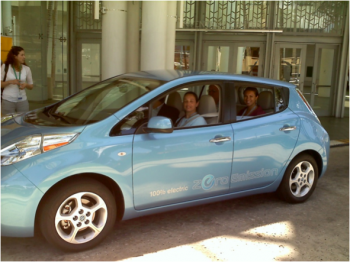 Assistant Secretary Patricia Hoffman test drives the new Nissan Leaf. Nissan will introduce the all-electric Leaf in Hawaii in January 2011. Hawaii is offering incentives for the purchase of the vehicle and for home charging station development.
Earlier this month, Department of Energy Assistant Secretary for Electricity Delivery and Energy Reliability Patricia Hoffman stopped by the annual Asia Pacific Clean Energy Summit in Honolulu to speak about the Department's commitment to enabling the clean energy transition. Each year, the summit brings together world-renowned speakers to share diverse perspectives on the implications of advanced renewable energy technologies, including policy issues and investment opportunities. Among the topics this year, the summit dedicated special sessions to China's priorities and its investment in renewable energy, and included a trade show on progressive renewable energy concepts, products and services.
In addition to giving the keynote speech at the summit, Assistant Secretary Hoffman participated in unveiling the first drivable Nissan LEAF and toured the Kaheawa wind farm. During her visit she also met with Governor Linda Lingle, Senator Daniel Inouye, state representatives and the Hawaii Clean Energy Initiative (HCEI) management team who are working to transform energy use and planning in Hawaii in an effort to reach 70% clean energy usage by 2030.
In part by the efforts of HCEI – a partnership between the State of Hawaii and the Department of Energy – Hawaii has passed clean energy legislation and encouraged energy efficiency and renewable energy development. In addition, the Department of Defense's Pacific Command has voluntarily committed to meet or exceed all HCEI goals. The state is also working with utilities to achieve over 650 megawatts of clean energy generation  – making Hawaii one of the most aggressive renewable energy users in the world.
You can learn more about the Department's contributions to a clean energy future at www.oe.energy.gov and hawaiicleanenergyinitiative.org.