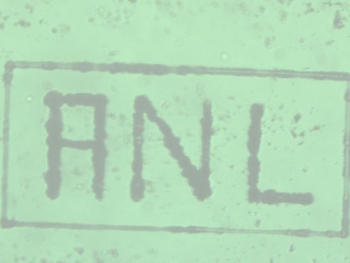 Gold and carbon nanoparticles strung together using a breakthrough new technique for materials design known as "optically directed assembly" | Courtesy of Argonne National Laboratory
A team of researchers at Argonne National Laboratory have invented a breakthrough technique in nanotechnology, providing scientists and engineers with an long sought after route to more durable, flexible and inexpensive materials and technologies, including medical treatments, semiconductors and consumer products.    
 
For many years, scientists have searched for ways to assemble nanoparticles (millions of times smaller than the tip of a pencil) into larger structures of any shape and design. The Argonne team has done just that. With a low-power laser, similar in intensity to those in presentation laser pointers, they were able to create an assembled, continuous filament of carbon and gold nanoparticles that followed the path of the laser as if it was a magic wand.
"It's possible that we could use this method to encapsulate the pharmaceutical agents for new drug delivery systems, or build cathodes with very large surface areas for use in batteries," noted Argonne biophysicist John Bahns, who led the invention of this technology. "It could potentially help us find better materials that could be used in everything from catalysts to semiconductors; the possibilities are endless."
 
This new technique for materials design, known as "optically directed assembly" or ODA, also advances a vast potential for next generation nanoparticles-based medical diagnostic and bioenergy research imaging probes.
 
Not unlike the fabled inventions of penicillin, the pacemaker and the microwave oven, the discovery of the ODA technology happened completely by accident. Bahns and Argonne scientist Liaohai Chen had been investigating carbon in soil using a laser-based technique called Raman spectroscopy. They added gold nanoparticles to their sample since these particles are known to boost Raman signals, and surprisingly, gold-carbon chains would form wherever they moved the laser.
 
"It looked almost like an Etch-a-Sketch," Chen remembered.
 
Last week, the Project on Emerging Nanotechnologies, a collaboration of the Pew Charitable Trusts and Woodrow Wilson International Center for Scholars, estimated that there are over 1,300 manufacture-identified, nanotechnology-enabled products in the worldwide commercial marketplace. When the Project started this inventory five years ago, it contained just 212 products.
 
Increasingly, global competitiveness and innovation in everything from clean energy technologies and electronics to advanced medical tools and treatments rely on nanotechnology. This latest technology is just another example of how scientists at the Department of Energy are continuing to push the boundaries, boosting our competitiveness and making the United States a leader in developing new nano-based materials.