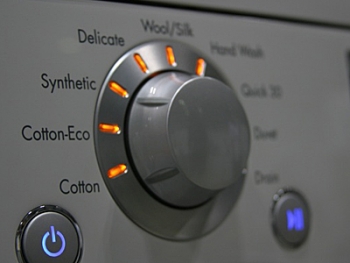 Cash for Appliances Utah has distributed nearly $1.1 million of $2.3 million in rebates across the state for products such as clothes washers. | Photo courtesy of Flickr user Takayuki Nakagawa
Utah's appliance rebate program, known as Cash for Appliances Utah, is still going strong after nearly four months of rebates.
The program has distributed nearly $1.1 million of $2.3 million in available rebates across the state for ENERGY STAR appliances, including clothes washers, furnaces, storage and tankless water heaters and room air conditioners ranging from $30 to $300.  Rebates are only distributed to residents replacing an old appliance. 
Cash for Appliances Utah opened in May and will continue until funds are depleted. The program recently increased the rebate for ENERGY STAR gas storage water heaters from $50 to $200.
"We've seen a consistent level of use. People are taking time to shop around and make educated decisions before moving forward with a purchase," says Chris Tallackson the incentives coordinator for Cash for Appliances Utah.
The state has opened up the remaining funding to all applications regardless of product type. When all rebates are distributed, the state will save 1.7 million kWh from clothes washers and air conditioners, enough to power almost 53 American homes per year.
 
In addition to saving money, the program has fueled nearly $16 million retail sales since opening four months ago.
The program helps families who are looking to replace older appliances with new, energy efficient appliances. With appliances having a lower initial cost, Utahans will see savings in their energy bills sooner. Tallackson says this is important during the winter months, where residents will see the most savings.
"Residents of Utah have high heating expenses. As a mountain state, we have long winters," says Tallackson.