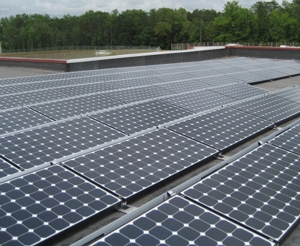 The roof-mounted solar array at the T.K. Davis Justice Center in Opelika, Ala. | Photo courtesy of Lee County Commission
At the T.K. Davis Justice Center in Opelika, Ala., the county is making an effort to reduce costs and help the environment by installing renewable energy projects, including solar panels on the center's roof and on poles around the property.
In addition to the existing array of panels at the center, a $162,000 Energy Efficiency and Conservation Block Grant awarded to Lee County through the Recovery Act is helping add another array of at least 36 panels, the power from which will be used to heat water at the detention facility.
"Alabama isn't really known for solar energy yet, but we really want to be a model for other communities and government agencies in the state to let them see what's possible," Wendy Swann, Lee County's government relations coordinator, says. "We've already received a lot of attention from across the state and region, and there are several communities looking at solar panels for their facilities — we just want to make the benefits renewable energy more well-known in the area."
The EECBG-funded project will be the second phase in the center's goal of being able to significantly reduce operational expenses and ultimately generate enough electricity to sell back into the grid.
"This absolutely yields taxpayer savings in the long run, which is one of the other reasons we wanted to do it," Wendy says. "With this being a detention facility, we are running it 24 hours a day, so we wanted to see what we could do to help pass along some savings, and we hope to save even more as we expand our renewable energy systems."