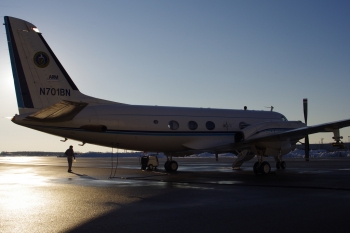 This Gulfstream-1 research plane carries a payload of more than 30 scientific instruments to measure smoke from forest fires and other biomass burns. | Image courtesy of Pacific Northwest National Laboratory.
It's Earth Week on Energy.gov! All week, we're focusing on climate change, highlighting Earth Day events and sharing ways Americans #ActOnClimate -- from climate scientists at the National Labs to high school students competing in the National Science Bowl. Follow along all week on Twitter, Facebook, Instagram and Google+, and let us know how you #ActOnClimate.
For scientists working to address climate change and develop low-carbon sources of energy, understanding Earth's climate through data is crucial. The Energy Department's Atmospheric Radiation Measurement (ARM) Climate Research Facility aims to make that data easier to gather and access than ever before.
The ARM Climate Research Facility provides the climate research community with strategically located remote sensing and in situ ("in the field") observatories in locations around the world. The goal? To improve the understanding and representation of clouds and aerosols in climate and Earth system models, as well as their interactions and coupling with the Earth's surface.
Aerosols are small particles suspended in the atmosphere that impact Earth's climate in a number of ways. When these particles are large enough, they can scatter or absorb sunlight. In the lower atmosphere, aerosols can modify the size of cloud particles, changing how the clouds reflect and absorb sunlight. Aerosols can be created by volcanic eruptions, dust from deserts, the burning of coal and oil, or even forest fires.
Research at the facilities focuses on four areas: how aerosols affect the global climate; the various stages of cloud evolution; the impact of aerosols on the radiative balance of Earth's climate system through their influence on clouds; and radiative processes, like heat transfer and radiation absorption. Each site or observatory includes a suite of instruments necessary for taking a range of measurements -- from aerosol composition to atmospheric moisture, pressure and temperature.
The ARM Climate Research Facility includes three fixed sites -- Southern Great Plains, North Slope of Alaska and Eastern North Atlantic -- with supplemental aerial and mobile facilities. The sites continuously collect the massive amounts of atmospheric measurements needed to create climate data. ARM scientists and infrastructure staff provide additional processing to create data products that can be used by researchers all over the world.
As a scientific user facility, the ARM Climate Research Facility, its observatories and the data they gather are available for use by scientists and researchers from other government agencies, the private sector and academia. Researchers can use ARM by accessing data gathered during normal operations or field campaigns (available online), visiting a site (in-person or virtually) or by proposing and conducting a field campaign.
Learn more about the ARM Climate Research Facility and the National Labs.