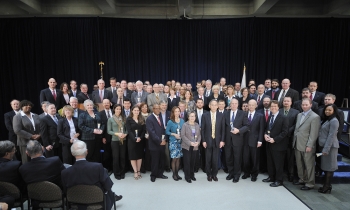 The Japan Earthquake and Tsunami Disaster Response Team with Secretary Steven Chu as they receive a Secretary of Energy Achievement Award. | Photo courtesy of the Energy Department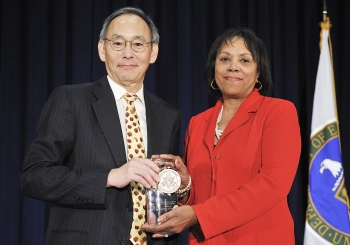 Annie Whatley, Acting Deputy Director for the Office of Minority Economic Impact with Secretary Steven Chu as she receives a Secretary of Energy Excellence Award | Photo courtesy of the Energy Department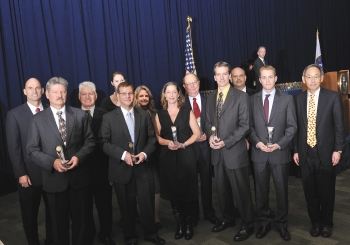 The BA-350 Spent Fuel Disposition Program Team with Secretary Steven Chu as they receive a Secretary of Energy Achievement Award. | Photo courtesy of the Energy Department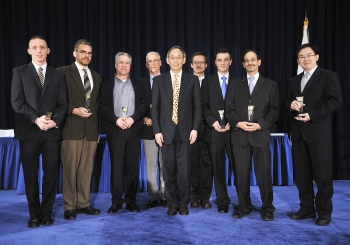 The RHIC-ATLAS Computing Facility Team with Secretary Steven Chu as they receive a Secretary of Energy Achievement Award. | Photo courtesy of the Energy Department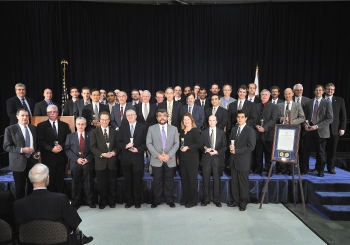 The Flow Rate Technical Group/Nodal Analysis Team with Secretary Steven Chu as they receive a Secretary of Energy Achievement Award. | Photo courtesy of the Energy Department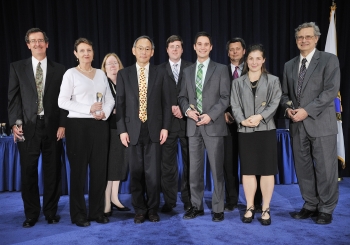 The Daily Energy Report Team with Secretary Steven Chu as they receive a Secretary of Energy Achievement Award. | Photo courtesy of the Energy Department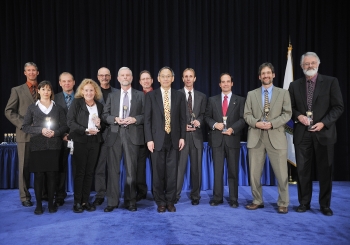 The Fugitive Emissions Working Group with Secretary Steven Chu as they receive a Secretary of Energy Achievement Award. | Photo courtesy of the Energy Department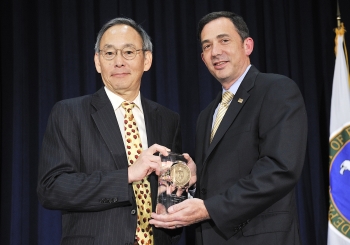 Robert Brese, Deputy Chief Information Officer in the Office of the Chief Information Officer with Secretary Steven Chu as he receives a Secretary of Energy Excellence Award. | Photo courtesy of the Energy Department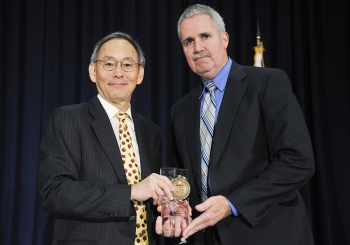 Thomas Staker, Deputy Director for Oversight in the Office of Enforcement and Oversight with Secretary Steven Chu as he receives a Secretary of Energy Excellence Award. | Photo courtesy of the Energy Department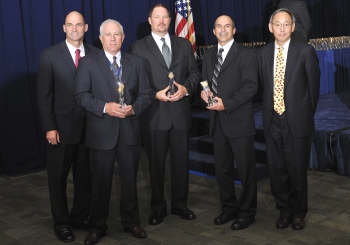 The Moab Uranium Mill Tailings Remedial Action Project Team with Secretary Steven Chu as they receive a Secretary of Energy Achievement Award. | Photo courtesy of the Energy Department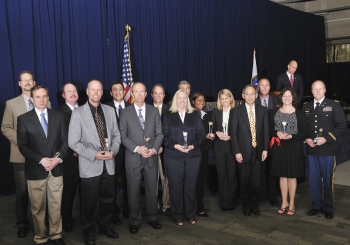 The B53 Weapon System Dismantlement Program Team with Secretary Steven Chu as they receive a Secretary of Energy Achievement Award. | Photo courtesy of the Energy Department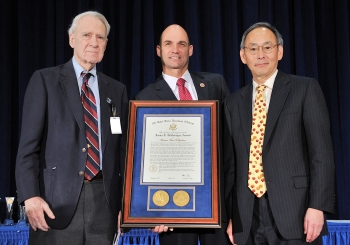 Tom D'Agostino, Under Secretary for Nuclear Security and Administrator with Secretary James R. Schlesinger and Secretary Steven Chu as he receives the James R. Schlesinger Award for his distinguished career of over 35 years, where he has exemplified principled leadership, creative vision and dedication to public service.| Photo courtesy of the Energy Department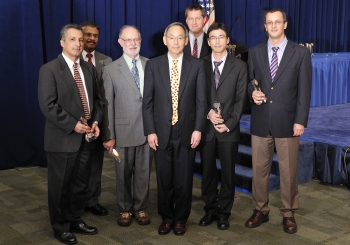 The Hanford Liquid Waste V&V Evaluation Team with Secretary Steven Chu as they receive a Secretary of Energy Achievement Award. | Photo courtesy of the Energy Department
Dismantling a weapon the size of a minivan, safely securing enough nuclear material for 775 nuclear weapons, responding to the Deepwater Horizon oil spill and the Fukushima nuclear emergency – those are just some of the many accomplishments that Energy Department employees were recognized for as part of the Secretary's Honor Awards.
"The people are the organization," Secretary Steven Chu said. "It's staggering all that we do and it's breathtaking how good the people in the Department of Energy are."
This year's awards – the so-called "Academy Awards" of the Energy Department – celebrated the work of employees from across the country, who stood tall as they were recognized for their contributions to the agency's mission.
Chief Human Capital Officer Michael Kane said he was honored to recognize the "talented and dedicated public servants" who are "looking for solutions to make the world a better place to live in."
National Nuclear Security Administrator Tom D'Agostino also won the prestigious James R. Schlesinger award, which is given to recognize excellence and named for America's first Secretary of Energy.
The Secretary of Energy's Achievement Awards:
Japan Earthquake and Tsunami Disaster Response Team: contributed to the Energy Department's response to the devastating 9.0 Richter scale earthquake and subsequent tsunami in Japan on March 11, 2011.
Annie Whatley: Acting Deputy Director for the Office of Minority Economic Impact, Office of Economic Impact and Diversity: recognized for her steadfast commitment to programs that enhance the economic and community development capacities among underrepresented populations. 
BA-350 Spent Fuel Disposition Program Team: transported and secured spent fuel containing 10 metric tons of highly enriched uranium and 3 metric tons of weapon-grade plutonium from Kazakhstan's BN-350 fast breeder reactor.
Moab Uranium Mill Tailings Remedial Action Project Team: successfully relocated more than 25 percent of the contaminated materials located along the Colorado River.
Hanford Liquid Waste V&V Evaluation Team: Participated in the independent review of and technical recommendations for the Bechtel National, Inc. (BNI) Verification & Validation plan and evaluated BNI's pulse-jet mixing vessel design developed for the Energy Department's Hanford Site Waste Treatment and Immobilization Plant.   
Flow Rate Technical Group/Nodal Analysis Team: contributed to the Flow Rate Technical Group/Nodal Analysis Team's response to the Deepwater Horizon oil spill in the summer of 2010.     
RHIC-ATLAS Computing Facility Team: served the RHIC and ATLAS experimental physics programs by seamlessly storing, distributing and enabling the analysis of vast amounts of data from both facilities for the worldwide community of users.   
EIA Daily Energy Report Team: produced the EIA Daily Energy Report.   
Fugitive Emissions Working Group: united more than 20 Department laboratories, power administrations and NNSA facilities in a successful campaign to reduce greenhouse gas emissions.   
The Secretary of Energy's Excellence Award:
Robert Brese: Deputy Chief Information Officer, Office of the Chief Information Officer: recognized for contributions and leadership as a change agent to transform the way the Department does business.
Thomas Staker: Deputy Director for Oversight, Office of Enforcement and Oversight, Office of Health, Safety and Security: recognized for his steadfast efforts and consistency with the Department's Safety and Security Reform Initiative to implement a major restructuring of independent oversight of nuclear safety.
B53 Weapon System Dismantlement Program Team: tackled the challenges related to dismantling the oldest and largest weapon in the current stockpile and stayed on schedule while doing it. The team also contributed directly to meeting U.S. treaty commitments.
The James R. Schlesinger Award:
Tom D'Agostino, Under Secretary for Nuclear Security and Administrator, National Nuclear Security Administration: recognized for his distinguished career of over 35 years, where he has exemplified principled leadership, creative vision and dedication to public service.