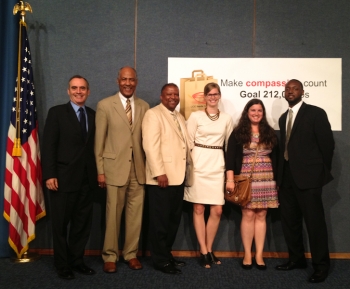 (L to R) Kevin Knobloch, DOE Chief of Staff; Fletcher Honemond, Chief Learning Officer; Doug Keeler, Feds Feeds Families National Program Manager; Ella Daniels of the Capital Area Food Bank; Jennifer Hirschorn; Rauland Sharp, 2013 Feds Feeds Families Deputy Champion. | Photo courtesy of Ella Daniels.
This morning, Chief of Staff Kevin Knobloch officially launched DOE's 2013 Feds Feed Families campaign today in Washington, DC. The effort encourages federal workers to donate food and other non-perishable items that will help feed families across the country. Since the program's inception in 2009, federal employees have been helping local food banks replenish supplies during the summer months, a time when food banks traditionally see a drop-off in donations and children lack access to free school lunch programs.
Since the campaign began five years ago, federal workers have donated and collected 15.2 million pounds of food and other non-perishable items to support families across America. Last year alone, we collected more than 7.2 million pounds of food -- but with over 50 million Americans living in food insecure households, we need your help again this year.
To participate, bring non-perishable food items from now through August 28, 2013 to place in collection boxes located throughout Forrestal and field offices. Food banks have asked for items like canned fruits, vegetables, soups and meats; grain cereals and sides (like rice), as well as cleaning supplies and personal hygiene items.
Energy Secretary Ernest Moniz called employees to action in a letter sent to DOE employees last week. Read what he had to say below, and thanks in advance for answering this call to help your neighbors.
From: Secretary Moniz
Sent: Wed 6/26/2013 10:34 AM
Subject: Feds Feed Families Campaign
Colleagues,
I am pleased to announce the Department of Energy has joined other Federal agencies in the 2013 Feds Feed Families nation-wide effort to address a looming national hunger crisis. The Feds Feed Families campaign is a voluntary effort undertaken by Federal employees to provide non-perishable food items for donation to local food banks. Since the start of this effort four years ago, Federal employees have donated over 15 million pounds of food to support families across America!
I encourage all DOE employees to participate in this noble campaign by making donations of non-perishable food items to one of the designated collection boxes, volunteering at events, and raising awareness within your organizations. The most wanted items for food banks nationwide include: canned fruits, canned vegetables, multigrain cereals, grains, canned proteins, soups, 100% juice, condiments, snacks, paper products, household items, and hygiene items.
Additionally, Deputy Secretary Daniel Poneman will launch the DOE Feeds Families kick-off event at 11 a.m. on July 2 at the Forrestal Building, East Plaza – Outside Patio Area. The campaign will run through August 28, 2013, and your support is appreciated.
If you have questions, want to learn more, or are interested in volunteering, please contact the Department's Campaign Chair and Champion - Mr. Fletcher Honemond, Chief Learning Officer in the Office of the Chief Human Capital Officer at fletcher.honemond@hq.doe.gov, or the Department's Campaign Deputy Chair - Mr. Rauland Sharp, also from the Office of the Chief Human Capital Officer at rauland.sharp@hq.doe.gov.
Thank you for the work you do to help your local community. I look forward to an exciting and successful Feds Feed Families campaign this year!
Sincerely,
Ernest J. Moniz