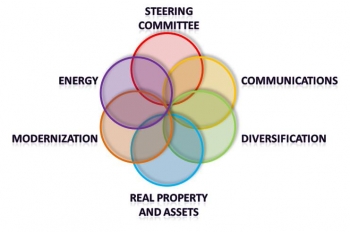 Purpose:
Identify, prioritize, and resolve issues for effective site revitalization.  

Address crosscutting issues.

Incorporate ARI's mission into programmatic business practices.
Team Attributes and Functions:
Coordinate using existing site and program protocols (ARI Task Force is not responsible for site-specific ARI projects or programs).
Resolve issues through:
Lessons learned
Information resources
Policy statements
Process improvement techniques
Proposed legislative changes
Partnering with other agencies
Facilitation
Define, prioritize, and establish deliverable timelines and manage resources.
Incorporate co-leadership and cross-functional membership.
Team Summaries:
Steering Committee
Objective:  Set the strategic direction, provide overarching leadership,
and support the ARI Task Force.
Leads:  Dave Geiser (Legacy Management [LM]), Tania Smith (LM/Environmental Management [EM])
Membership:  Oak Ridge Office (ORO), Richland (RL), National Nuclear Security Administration (NNSA), Energy Efficiency and Renewable Energy (EE), EE-Federal Energy Management Program (FEMP), Savannah River Site (SRS), Office of Management (MA), Special Assistant to the Deputy Secretary (DS), LM, EM
Communications
Objective:  Ensure effective internal and external ARI communication.
Leads:  Tony Carter (LM), Paivi Nettamo (EM)
Membership:  ORO, Portsmouth (PO), EM, RL, NNSA
Diversification
Objective:  Diversify DOE site missions, users, and the local and regional economy.
Leads:  Loida Begley (NNSA), Jennifer Nelson (Past - Helen Belencan) (SRS)
Membership:  OR-UCOR/EFCOG,1 SRS, RL, Office of Nuclear Energy (NE), PO, Lexington Office (Lex)
 
Energy
Objective:  Make DOE programs and the sites drivers to
promote the Nation's clean energy goals (including demonstration projects, scale-up testing, and manufacturing).
Leads:  Dave McAndrew (EE–FEMP), Tracy Logan (EE-FEMP), Jessica Arcidiacono  (NNSA)
Membership:  NE, RL, NNSA, SRS, EM
Real Property and Assets
Objective:  Dispose of or lease DOE excess land and assets to achieve DOE footprint reduction goals.
Leads:  David Steinau (MA), Colleen French (RL), Steve Cooke (Office of Science-ORO)
Membership:  EM–Consolidated Business Center (EM-CBC), ORO, NNSA, SRS
Modernization
Objective:  Incorporate sustainability practices at DOE sites to meet future DOE mission requirements.
Leads:  Deborah Couchman-Griswold (NNSA), Bud Sokolovich (EM-CBC), Sunil Patel (EM)
Membership: ORO, SC, EE, SRS, NNSA, EM, EM-CBC, Office of  the General Counsel (GC), Office of the Chief Financial Officer (CFO)