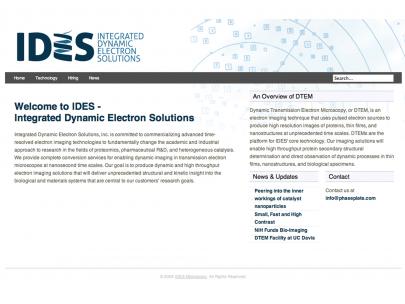 333 likes
Integrated Dynamic Electron Solutions, Inc.
Lawrence Livermore National Laboratory
Dynamic Transmission Electron Microscopes DTEM reveal unprecedented details of the mechanisms underlying a host of nanoscale systems that are at the core of our current and future energy economy.
A vast and growing number of materials utilized in the energy sector rely on nanostructured materials and their unique dynamic behaviors. DTEM offers researchers the ability to directly interrogate these materials at time and length scales that to-date have either been impossible to access or required the use of multi-billion dollar synchrotrons. DTEM will fundamentally change the approach to basic and applied research in the diverse and numerous fields that involve nanomaterials. Direct imaging of the behavior of nano- and bio-materials will not only change the way scientists approach nanoscale problems, but it will fundamentally drive the engineering of these systems and their use in the energy sector.
DTEM offers imaging, diffraction and spectroscopy of nanomaterials at frame rates that are more than six orders of magnitude greater than the current state of the art. Moreover the technique utilizes pulse durations as short as 10ns and achieves nanometer spatial resolutions which enables direct imaging and spectroscopy of material dynamics, including nanoparticle catalysis, structural changes in biomolecules, and electronic and charge transfer processes in solar cells and battery electrodes.
The key difficulty with this technology is the large capital investment required to establish a DTEM facility, which typically involves millions of dollars of equipment. This challenge is offset by the incredible value delivered by DTEM when compared to expensive facilities, such as synchrotrons and aberration corrected TEMs. IDES has successfully constructed its first commercial DTEM instrument demonstrating not only a market need, but also the viability of the technology itself.