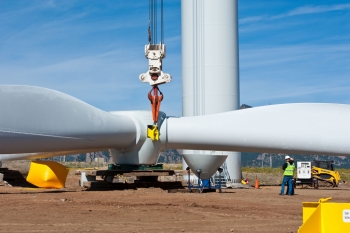 Workers use a giant crane to lift the blade assembly on a wind turbine at NREL's National Wind Technology Center. | Photo by Dennis Schroeder.
Want to know more about funding and financing for energy projects and businesses? Check out general resources at the Energy Department and other parts of the federal government.
AT THE ENERGY DEPARTMENT
DSIRE (Database of State Incentives for Renewables and Efficiency): DSIRE is the most comprehensive source of information on incentives and policies that support renewables and energy efficiency in the United States. Established in 1995, DSIRE is currently operated by the N.C. Solar Center at N.C. State University, with support from the Interstate Renewable Energy Council, Inc. DSIRE is funded by the U.S. Department of Energy.
Office of Energy Efficiency and Renewable Energy (EERE) Funding Opportunities: Learn more about different audiences for EERE funding and how you can apply for financial assistance.
Office of Science funding opportunities: Learn about grants and funding from the Energy Department's Office of Science.
Office of Small Business Development and Utilization: View tools for small businesses who are interested in doing business with the Energy Department.
Energy Information Administration: Independent energy statistics and analysis from the Energy Department. 
OTHER GOVERNMENT RESOURCES
Export-Import Bank of the United States: As the official export credit agency of the United States, the Ex-Im Bank's mission is to assist in financing the export of U.S. goods and services to international markets. Ex-Im Bank enables U.S. companies -- large and small -- to turn export opportunities into real sales that help to maintain and create U.S. jobs and contribute to a stronger national economy.
Overseas Private Investment Corporation (OPIC): OPIC mobilizes private capital to help solve critical development challenges, providing investors with financing, guarantees, political risk insurance and support for private equity investment funds. 
Grants.gov: Managed by the Department of Health and Human Services, Grants.gov provides a centralized location for grant seekers to find and apply for federal funding opportunities. Today, Grants.gov houses information on over 1,000 grant programs and vets grant applications for 26 federal grant-making agencies.
Federal Business Opportunities: Search a catalog of available federal government funding opportunities. 
Startup America: The Startup America Partnership, managed by the Small Business Administration, supports a national network of startup communities dedicated to advancing the success of American startups.
Small Business Innovation Research (SBIR) / Small Business Technology Transfer (SBTT): Learn more about SBIR/SBTT, whose mission is to support scientific excellence and technological innovation by investing federal research funds in critical American priorities.